Send an Email
As well as iBex sending emails automatically, PMS users can also send any emails (either using an email template or a casual one off) at any time.
Instructions
When entering a booking into your system you have an option to send an email confirmation which you need to select before clicking the Book button.

The same applies whenever you change the status of a booking.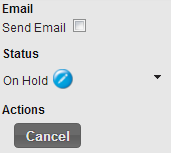 Tip – You can set a preference in your iBex system so that the Send Email option is always selected (or deselected) by default. You can always override the default option whenever necessary. This is set in the Manage auto email rules screen by ticking/un-ticking the Back Screen Booking Activate option.
If you want to send the guest an email at any other time, you do so by going into their booking, select the Lead Guest tab and click New Email.

Once clicked, a new window will open where you can free format an email or load one of your email templates.
If you are going to send one of your email templates, you must have an email address saved in the customer database.
The customer's email will automatically be entered into the 'To:' field if it's on the Lead Guest details page. You can change the email if required.
Before sending the email you can add further links by selecting the required options at the bottom of the page. These will be added to the email as links for your customer to click on to open.
If you use a payment gateway that is connected to your account, please see the Important Note below.
If you add an amount into the Amount field, this will auto fill the amount shown to the customer as the amount due.
Tip – Once you have sent an email, you can always check in the log to see if it has been sent successfully.
If you use a payment gateway that is connected to your account (ie PayPal) and you select one of the 'Include cc Pay Link' options to be added to the email, the customer will be directed to the payment gateway when they click the link in the email.
The transaction will be recorded in the booking as a payment for the booking and the balance adjusted accordingly.
Please note: If you select "Include cc Pay Link" and leave the Pay Amount field as zero, the payment gateway will do an "Auth" (DPS) for 1 dollar, 1 pound, etc ("authorization" for PayPal, "deferred" for SagePay) and the iBex payment record will show as "Hold" as no payment will have been taken.
Gateway users can then subsequently do a "Complete" or "Token" payment in your iBex account to charge the card when it's required. PayPal operators can login to their provider's administration system to charge the card.