Dashboards
The Chat Module loads the Dashboard first.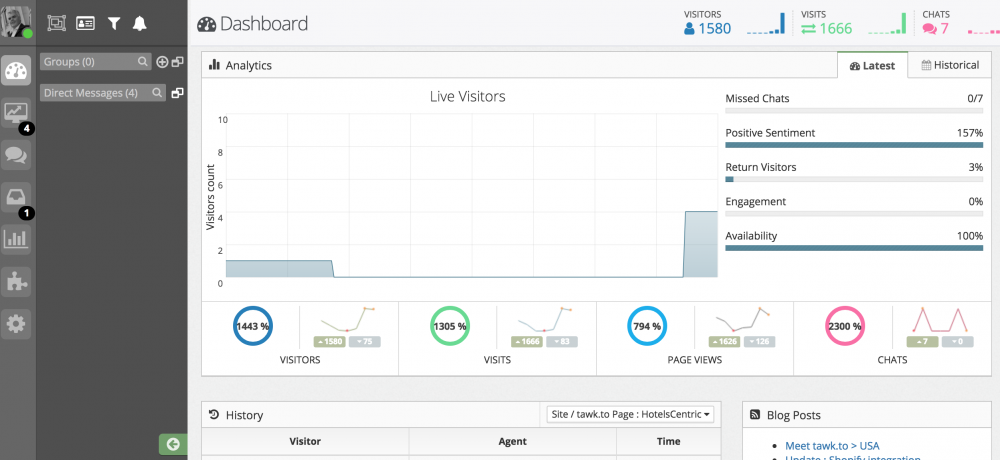 This is a live, and running report on all your chat history, and stats. 
The next menu item is Monitoring this shows you who is on your website right now, what country they are from, what pages they are visiting, and how long they have been on the site, also what Browser they are using as well as what operating system.
You can also see how many times they have visited your website, and how many times they have already chatted to your staff.
The third menu item is actual active chats on your website.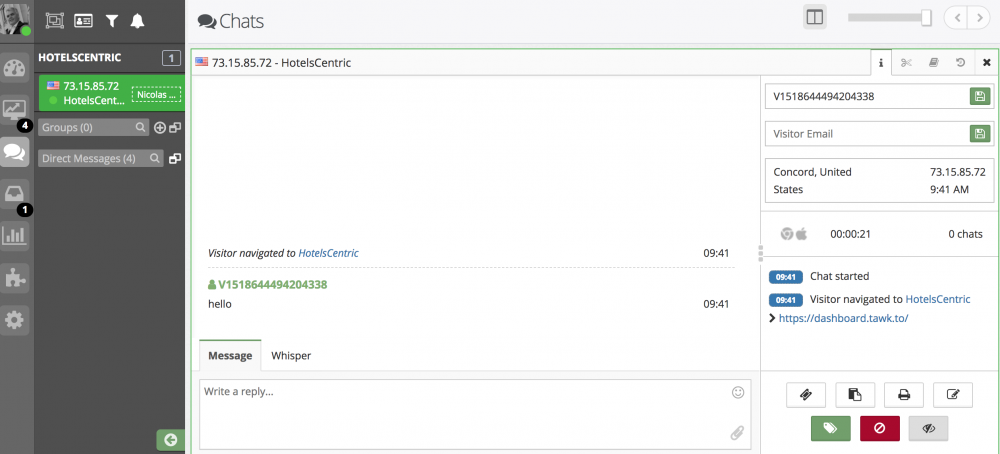 If someone initiates a chat there will be ringing tone just like a phone, and a pink colored warning, you can select the chat, and click on the join button in the bottom middle of your screen.
You will then see what they are writing to you, and the times between responses. You write your message to the guest in the message window.
You will also see on the far right of the message window there is the option to use emoto cons, and also attached relevant docs or images to send your customer via the chat module.
You will see also there is a whisper tab, this is so you can communicate with any of your staff talking to a customer without the customer seeing this comment. 
This allows you to help train staff or give advice without having to have the customer involved in this conversation, it also allows your staff to for example, ask "can i offer this room or this discount" and get an immediate responses from you via your PC or the mobile App so the customer gets served in a timely fashion, and it happens all behind the scene.
If the guest leaves their email address, and you or your team missed the chat then you will still be able to follow up with the client at a later date.
These missed chats will be found in the next menu tab Messaging.
The reporting tab gives you a lot of detail about the chats over time that have come into the website. With all the following options of reporting.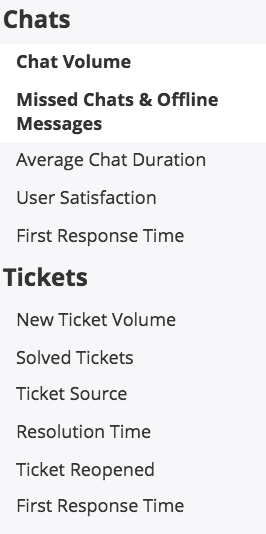 There are also some pay for Addons, and some cool new features coming soon.
The last tab is the admin tab. Here you can add users, and change your company info, and also change the appearance of your chat app, you can also set triggers to make offers, or to ask customers if they need help if they do specific actions.