Arrivals & Departures List
You will view the Arrivals & Departures screen on a daily basis so it is worth pointing a couple of features and tips about the screen as it has multiple features. The video at the bottom of this page will also provide a good overview.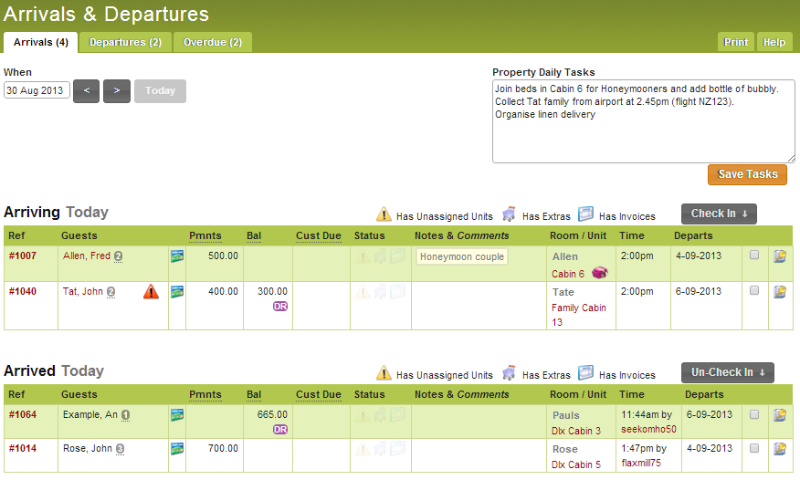 You can switch between tabs to view your Arrivals or Departures (and an Overdue that have not been checked in or checked out on their scheduled arrival or departure date).
Each screen will display bookings that are to be checked in or out or due to be so
Each booking has it's own line which includes…
Their booking reference,
The lead guests name (with any alerts or notes saved to the customers database),
An option to

 

add a payment

 

or print receipts (by hovering over the credit card symbol),
A finance summary,
A quick reference to whether the booking is unassigned, has any extras or has been invoiced,
Any private booking notes (which are amendable on screen) and any public booking notes (which are usually guest comments or requests),
The booking's room details (and whether or not it's been serviced),
An

 

ETA

 

(estimated time of arrival),
The option to

 

check them in or out

 

(depending which screen you are on), and
To print a guest registration card if necessary.
You can go into the booking by clicking on the booking reference.
You can use the When field to view any date's arrivals and departures list and tasks for that date.
You can easily add and manage your daily tasks by adding them to the Tasks field for the necessary date. The task will then be displayed on that date whenever you next view it.