Exclude Unit from sale
You can exclude specific units for sale for a specific date or date range either from just online sales or for all sales. Removing an exclusion so that the unit is available for sale again can also be done at any time.
Examples of why you would exclude units may be to maximise your direct sales or for room maintenance.
If you add or amend a booking to a web excluded unit, this will remove the web exclusion. If you move the booking to another unit at a later stage, you will need to add the web exclusion again.
Instructions:
Excluding a unit is just like making a Quick New Booking.
You can either click on a cell on your bookings calendar and select the Exclude Unit option on the Quick New Booking Form, or select the Exclude unit option in the Availability & sell method section in the menu and then click on a cell in the bookings calendar.

Select the dates that you want the exclusion for on your calendar.
Select the unit (or units) that you want excluded.
You can select multiple units, grouped under a same Unit Type, with a single click instead of selecting each unit one by one.
Simply click on the name of Unit Type to select all units listed under it. (See example screenshot below)
Add in any Comments (for example, Shower broken).
Select the sell method option required:A Full Exclusion means that no booking can be made in that unit.
A Web Exclusion means that no online booking can be made for that unit but it can still be booked manually (by you).
Include would be set when you want to remove the exclusion from a unit and enable it for sale again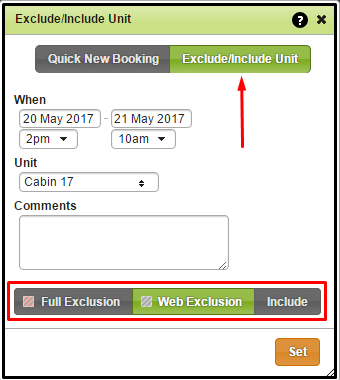 Once set, you will see that the unit has been excluded on your bookings calendar and it will be highlighted accordingly to the option you set.
Any comments saved in the Comments field can be seen in the bookings calendar when you hover over the excluded unit.